Winter Work Parties
TBD- Stay posted to our Facebook, Instagram, and newsletter for upcoming work parties this winter. Our winter work parties usually include drainage clearing, corridor cutting, and basic trail maintenance after heavy storms.
In the mean time, if you see some branches fallen on the trail, stop and move them for the other riders! A little help goes a long way!
---
WRCMBA Holiday Party – Saturday, DECEMBER 3rd
The date is set for our Annual Holiday Party in Agness. Bring your bikes, your potluck, and your ho-ho-ho's for our winter shuttle and party in Agness!
It's that time of year to come enjoy some holiday cheer in Agness! Join the club and fellow mountain bikers for a day of shuttling the Pine Grove Trail in Agness. Don your merry apparel and bring your bikes on Saturday December 3rd. Dress for the weather (or in your Santa Suit). We will meet at 10am at Cougar Lane Lodge parking area to load shuttles and start our laps down Pine Grove Trail.

Bring your favorite hot dish or potluck item to share after the ride. Beverages of choice, protein bars, and some snacks and lunch items are also a good thing to pack. We will have a fire pit going to warm your toes and nose.

Everyone is encouraged to stay the night in Agness at Agness RV Park, Cougar Lane Lodge, or Lucas Lodge- cabins, rooms, or camping available. Reserve your spots early! Agness is about a 1 hour drive from Gold Beach, so plan accordingly to arrive on time or to set up camp. 

In years past we've had everything from sunshine to snow, there's always some mud, and definitely lots of smiles!

The Pine Grove Trail is an intermediate to advanced downhill trail with a little climbing in the first few miles. The drive to the trailhead is about 35 minutes from Agness. This 6 mile ride is great for intermediate mountain bikers, full suspension bikes will perform best, helmets are pretty much required (we don't really want to have to leave the party to take you to the hospital), and confident kids can enjoy this ride as well! The trail will have some slippery spots, some exposed narrow sections, some fast wider old-road conversions, and a few rocks, roots, and ruts to keep you on your toes.
So bring the whole family and tell your friends. You won't want to miss one of our most fun events of the year!
Pine Grove Shuttle & Christmas Potluck…. in Agness!
Important Details:
December 3rd, 2022
Meet up by 10am @ Cougar Lane Lodge/Agness RV Park in Agness, OR.
Bring your bikes, helmets, food for the day, potluck item, drinks and holiday cheer!
Shuttle Pine Grove Trail 2x or more with fellow riders.
Bring some food and fun. Potluck, games, fire pit to follow.
Stay the night. Reserve your camp spot, cabin, or room at any of the fine accommodations in Agness: Agness RV Park, Cougar Lane Lodge, or Lucas Lodge are great options.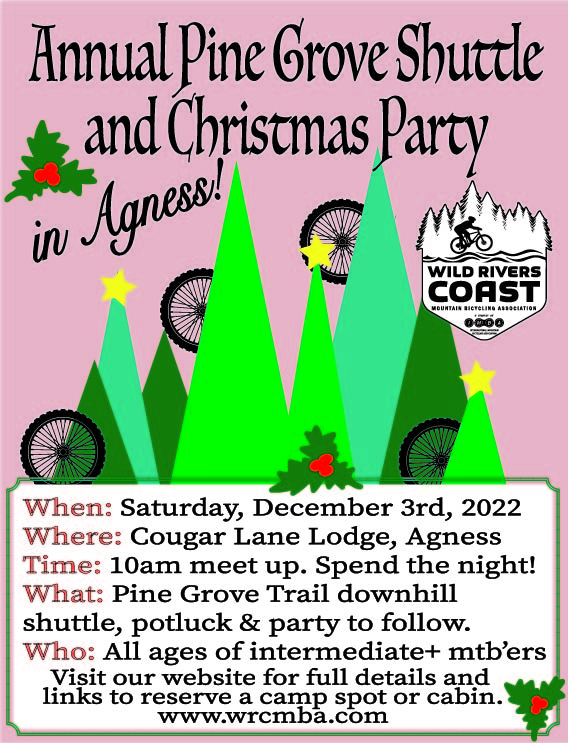 ---
Upcoming Trail Work Parties – 2023
Please join us for our Trail Work Parties (TWPs) this spring!
Trail maintenance is a large part of what we do at WRCMBA. Wild Rivers Coast's volunteers puts hundreds of hours into our trails in both Coos and Curry County. We can't do it with out our volunteers! We host Saturday and Sunday TWP's throughout the year. WRCMBA Tool Trailer will be on-site to provide hand tools, chainsaws, blowers, mechanized wheelbarrows, and pole saws for our volunteers. (Although you are more than welcome to bring your own favorite tool: flat shovels, hard metal rakes, and chainsaws are the most valuable to our work.) This is a great time to give back to the trails while getting in a little "cross-training." Bring the family!
Arrive early to check in, get your hard-hat, and receive our pre-work-party training. Each TWP we will focus on different trails and features. All volunteers must sign a waiver- which is good for the year.
Be sure to sign up for our newsletter (on the right —>) to get the updates on when/where/if the work parties are happening, and find out about any crucial updates.
---
Want to schedule a TWP for a private group? (Scouts, Church Group, office?) Email [email protected] to arrange.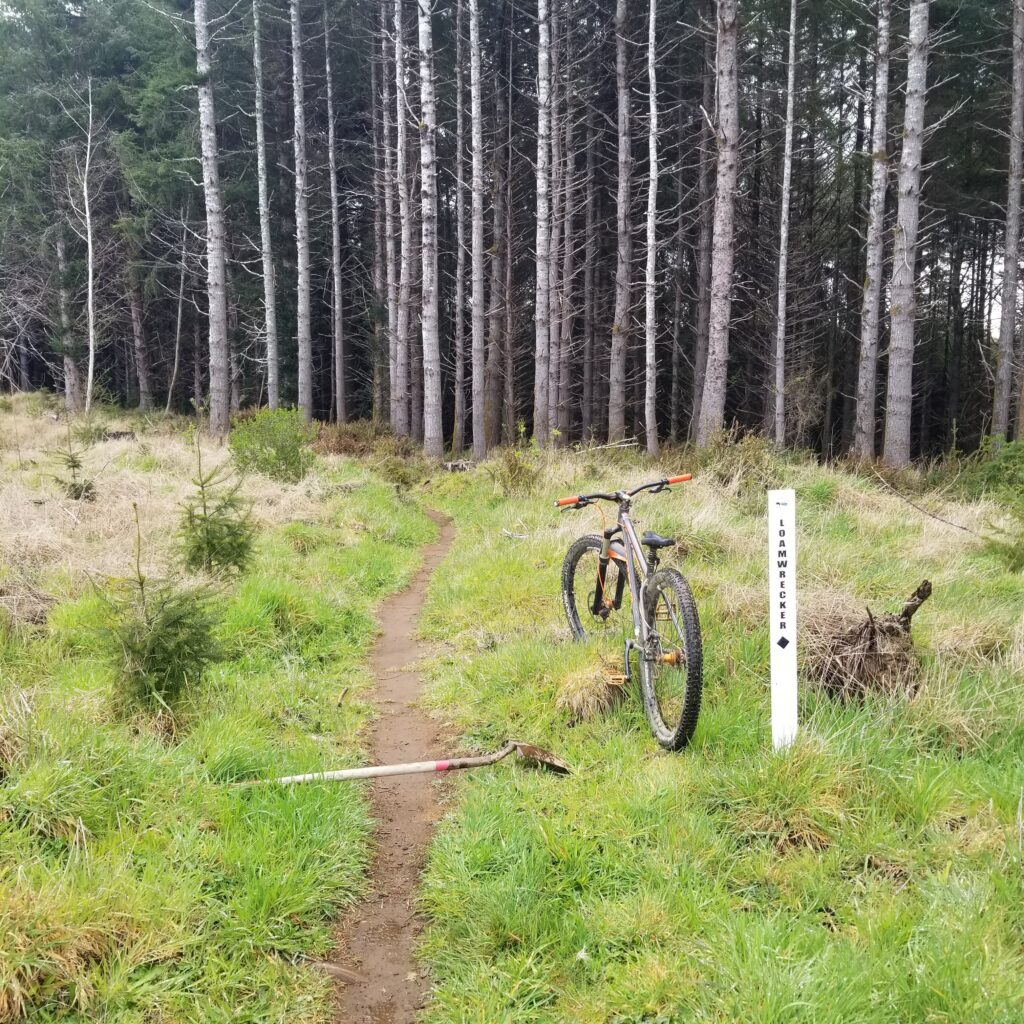 ---
Wild Betties Rides
2022 Wednesday RIDES BEGIN APRIL 6th! Meet at 5:30pm @ Whiskey Run Main Parking Lot!!!
Calling all Ladies! Join our What's App Group chat to see if the Betties are getting together to ride. https://chat.whatsapp.com/LV5KaZKE4Vu55DJEaCrBga
You can also find us on Facebook.
We typically meet on Wednesday at Whiskey. Mostly because we like the alliteration. 🙂
Wild Betties rides are open to ALL levels of female-identifying riders. Youngsters to OG's are welcome and the rides are either broken up based on skill level or inclusive to the most novice rider of the group. Don't be shy, bring a friend or meet a friend, and let's ride bikes!
Any questions? Call Erin at Pineapple Express Adventure Rides- 541-655-0233 (she's also available to teach private lessons if you're looking to hone your skills)
---
Stay Tuned for more Upcoming Trail Work Parties
See something that needs attention? Email us at [email protected] to let us know!
Be sure to log your volunteer hours! You can do this via TrailForks App or simply message us on Facebook, Instagram or Email. Thanks for all you do!